X RACER
Standalone transmissions over optical fiber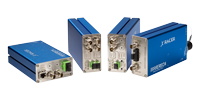 Overview
The X-RACER series composes of a range of useful handheld transmission units designed for the broadcast environment. Each module integrates its own mains power supply and is available with optional standard SMPTE connector.
Standard models are:
Bidirectionnal 3G / HD / SD + 100 Mb/s Ethernet over 2 optical fibers with SC/APC connectors.
Bidirectionnal 3G / HD / SD over 1 fiber with SC/APC connector.
Bidirectionnal MADI media converter over 2 optical fibers with SC/PC connector.
Each module is fitted with signal presence LED and alarms LED to ease on field troubleshooting.
The aluminium case offers a thermal operating range of -20°C to +60°C.
Each 3G / HD / SD optical receiver performs reclocking on the received signal, each transmitter has a built in cable equalizer.
Ethernet transmission is fitted around a built in Ethernet switch allowing different network settings at each end of the transmission and performs automatic crossover for straight or crossed cables.
The size of the cabinet 42*86*150mm offer the possibility to install it horizontally on a 1RU tray or vertically on a 2RU tray.
Options
Depending model, numerous options are available such as multiple SDI outputs per module, low voltage redundant power supply input on XLR4 or SMPTE cable Neutrik / LEMO connector instead of the SC type.
Optical
| | |
| --- | --- |
| Dynamic range: | 15dB as a standard, ask for availability of powerfull laser sources. |
| Connector: | SC/APC in standard (MADI is standard in SC/PC), LC/PC, LEMO / Neutrik. |
Video SD/HD
| | |
| --- | --- |
| Connector: | 3G certified BNC |
| Standard: | SDI, ASI, HD, 3G (built in reclocker) |
| Impedance: | 75 Ω |
| Amplitude: | Input: cable equalization (80 m Belden 1694A for 3G), Output: 800 mV pp |
| Return loss: | Better than – 15 dB for 0 to 1500 MHz and better than – 10 dB for 1500 to 3000 MHz |
Ethernet
| | |
| --- | --- |
| Number, connector: | RJ45 Socket |
| Protocols: | 10 or 100 Mb/s, Full or Half-duplex (Auto), MDI or MDI-X (Auto) |
Signaling
| | |
| --- | --- |
| Transmitted signals: | 1 LED per signal |
| Alarms | 1 LED per technical alarm (Power supply / Fiber alarm / Link loss ). |
Powering
| | |
| --- | --- |
| Consumption: | 3.8 Watts maximum for the dual SDI bidi module |
| Low voltage source: | 8 to 20 VDC, XLR 4 pins connector, protected by internal resettable fuse |
| Mains source base: | From 90 to 260 VAC / 47 to 63 Hz, IEC 3 pins standard connector, internal PCB fuse |
Mechanical
| | |
| --- | --- |
| Material: | Body: extruded aluminium blue anodized, Fascia: Stainless steel |
| Size: | 42*86*150mm excluding connector |
| Tray support | Lateral guides to clamp or slide M3 screw head / square nut |
| Operating temperature | From -20 to + 60°C. (Avoiding direct sun exposition) |