STORA 1
2 HD + 2HD return, 1 G/L, 8 audio, IP, 2 RS, 2 GPIO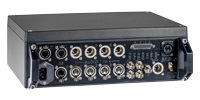 Overview
The STORA is a very rugged optical fiber transmission intended to connect 2 outdoor cameras to the OB VAN. Its capacity allows two standard cameras or one 3D camera per system.
The equipment assumes transmission of a comprehensive set of signals as follows:
2 HD signals (live image),
2 HD return path signals (view finder),
1 Genlock (PAL image / Black burst / Tri-level),
8 analog audio for intercom or broadcasting,
1 Ethernet 10/100Mbs,
2 Data RS 232/422/485,
2 Contact closure.
The transmission board and its power supply are integrated in a compact die cast aluminum box. The enclosure ensures excellent shock/drop protection along with dust and water resistant capacity.
A small internal fan guarantees convection cooling inside of the box with the aluminum walls acting as a heat sink.
All the signals are transmitted on 2 singlemode fibers. Camera side module; STORA RX can be remote powered through Hybrid cable.
Connectivity
Standard rugged connectors are used for all the signals. HD and PAL video ports are on BNC connectors.
The other connectors are Neutrik D series socket, 4 audio are routed to XLR and the 4 remaining are located on D SUB 25 socket expansion connector for space consideration. IP, RSxxx and contact closure are dispatched on RJ45.
Optical and remote power access is done through a Neutrik OpticalCon DUO socket.
Seven status Led are located on the connector face (details in specification description).
Optical
| | |
| --- | --- |
| Dynamic range: | 15 dB (~ 30Km) |
| Optical link n°1: | HD SDI bidirectional |
| Optical link n°2: | HD SDI bidirectional + all other signals (GPIO, IP, RS, AUDIO) |
| Connector: | NEUTRIK OpticalCon DUO |
Video SD/HD
| | |
| --- | --- |
| Number, connector: | 1 bidirectional channel on BNC |
| Impedance: | 75 Ω |
| Standard: | SDI, ASI, HD, 2HD (3G optional, specific optical component) |
| Amplitude: | Input: cable equalization (140 m Belden 1694A for HD), Output: 800mV pp |
| Return loss: | Better than – 15 dB |
Analog Video / GL
| | |
| --- | --- |
| Number, connector: | 1, BNC |
| Standard: | PAL, SECAM, NTSC, Tri-level ( Bi / Tri level auto sense ) |
| Impedance: | 75 Ω |
| Bandwidth: | > 5.8 MHz at +/- 0.2dB |
| Differential Gain: | < 1% |
| Differential Phase: | < 1° |
| Group delay: | < 10 ns |
| SNR: | > 67 dB (CCIR567) |
Analog Audio
| | |
| --- | --- |
| Number, connector: | 8 bidirectional channels, 4 on XLR / 4 on one SUB D 25 socket |
| Impedance: | Input: 10 KΩ differential (non floating), Output: 20 Ω differential (non floating) |
| Amplitude: | +4 dBm nominal (saturation at + 18 dBm) |
| Bandwidth: | 50 Hz to 15 KHz at +/- 0.5dB, (20Hz to 20 Khz at -3dB) |
| Distortion: | 0.05% at 1Khz +18 dBm |
| Signal to noise ratio: | 90dB, "A" weighted |
Data
| | |
| --- | --- |
| Number, connector: | 2 bidirectional channels, 1 RJ 45 socket per channel |
| Protocols: | RS485, RS422, RS232 |
| Data rate: | 0 à 230 Kbd/s |
| Setting: | Internal coding wheel, (RS 485 2 wires by strapping on SUB-D) / RS 485 setting common for the 2 channels |
Ethernet
| | |
| --- | --- |
| Number, connector: | 1 channel, RJ45 Socket |
| Protocols: | 10 or 100mb/s, Full or Half-duplex (Auto), MDI or MDI-X (Auto) |
GPIO
| | |
| --- | --- |
| Number, connector: | 2 bidirectional GPIO contacts / 1 GPIO along each DATA RJ45 connector |
| Output: | Relay (dry contact).  'Common' – 'Normally Open' terminals for each relay |
| Input: | Input pin grounding |
Powering
| | |
| --- | --- |
| Consumption: | 10 Watts per side |
| Low voltage source: | 8 to 16 V DC, XLR 4 pins connector, protected by 5*20 mm standard internal fuse |
| Mains source: | From 90 to 260 VAC / 47 to 63 Hz |
| Hybrid cable source: | From 24 to 48 volts on powered device input / allowing 1000m of AWG16 cable. |
Mechanical
| | |
| --- | --- |
| Case: | Die cast strong aluminum case, size 335*235*111mm excluding connectors and handles |
| Cooling: | Internal fan / Case walls acting as Heat sink (No dust entry guarantee) |
| Operating Temp range: | From -20 to + 60°C. (Avoiding direct sun exposition) |
Signaling
| | |
| --- | --- |
| HD Video: | 1 LED for each link (HD receiver locked on signal) |
| Analog video: | 1 LED for video presence on the  Input / Output port |
| Data activity: | 1 LED blinks in case of activity on the DATA links |
| Alarm: | 1 LED lits if internal receiver is not locked on incoming signal or in any internal problem |
| Power: | 1 LED lits if all internal power sources are within specifications |
| Remote power: | 1 LED indicates the remote power status (TX is sourcing power / RX receiving enough power) |