AURA 2
16 audio, 16 GPIO, 4 AES, IP, 2 RS, 1 HD SDI with redundant optical link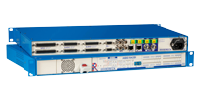 Overview
The AUDIO RACER is the compact and efficiency solution for the transmission of commodities signals and also signals for the photo director, over optical fibers, between OB truck and stage. One link offers the transmission of the following signals:
16 analog and bidirectional audio channels,
16 General purpose input / output,
4 bidirectional AES links ''protocol_less'' on one coaxial cable each,
1 Ethernet 10/100Mbs, 2 RJ45 port on two VLAN.
2 RS 422/485 channels.
1 bidirectional HDSDI signal.
The products are in a 19″ 1U chassis rack, with forced air cooling controlled in temperature.
Redundancy: optical fiber / power supply

A dual optical component version secures the optical fiber links and offers an automatic redundancy in case of main optical cable breakdown.
For each optical link, one LED indicates that the optical power received is correct.
As one fiber is disconnected or broken, the corresponding LED shuts off, and an alarm LED lit to indicate a fiber is out of order. In the mean time, the AUDIO racer selects the remaining fiber and continues to operate without perturbations.
The AUDIO RACER comprises a redundant power supply.
Real time, low delay

In order to avoid any audio noticeable delay for the staff working on stage, the AUDIO RACER analog and AES audio processing features :
Synchronism of the sampling frequencies of the signals.
Clock management at receiver side to synchronize the clock with the return channel.
Thus enabling a no buffer transmission with delay kept as minimum.
Supervising
One http server is integrated in the AUDIO RACER, it delivers the status of the equipment on web page interface. The available information includes technical information of the product (internal voltages, internal temperature, optical status…) and also signals information (signal presence, data setting). The RJ45 of the "AUDIO" VLAN gives the access to the server.
Signaling
To facilitate installation/trouble shoot process, the AUDIO RACER features on the front face full information LED status, displaying all signal presence and technical alarms of the product.
No external diagnostic equipment is required at first start.
Video SD/HD
| | |
| --- | --- |
| Number, connector: | 1 bidirectional channel on BNC |
| Impedance: | 75 Ω |
| Standard: | SDI, ASI, HD, (2HD optional, specific optical component) |
| Amplitude: | Input: cable equalization (140 m Belden 1694A for HD), Output: 800mV pp |
| Return loss: | Better than -15 dB |
Analog Audio
| | |
| --- | --- |
| Number: | 16 bidirectional channels, on 4 SUB-D 25 sockets |
| Impedance: | Input: 10 KΩ differential (non floating), Output: 20 Ω differential (non floating) |
| Amplitude: | +4 dBm nominal (saturation at + 18 dBm) |
| Bandwidth: | 50 Hz to 15 KHz at +/- 0.5dB, (20Hz to 20 KHz at -3dB) |
| Distortion: | 0.05% at 1KHz +18 dBm |
| Signal to noise ratio: | 90dB, "A" weighted |
| Signaling threshold: | -15 dBm on inputs / -15 dBFS on outputs |
| Delay: | 380 microseconds |
Audio AES
| | |
| --- | --- |
| Number: | 4 channels, each channel is bidirectional on one BNC |
| Impedance: | 75 Ω |
| Amplitude: | 1.5 Volts peak to peak |
| Gigue: | 0.02UI RMS / 0.04UI peak to peak (Audio signal at 48 KHz) |
| Delay: | 1.8 microseconds |
Data
| | |
| --- | --- |
| Number: | 2 bidirectional channels, 1 SUB-D 9 sockets connector per channel |
| Protocols: | RS485, RS422, RS232 |
| Data rate: | 0 to 230 Kbd/s |
| Setting: | A coding wheel at front face of AUDIO RACER for each signal (RS 485 2 wires by bonding on SUB-D) |
Ethernet
| | |
| --- | --- |
| Number: | 2 channels separate by internal VLAN |
| Connector: | RJ45 (Auto MDI) |
| Protocols: | 10 or 100mb/s, Full or Half-duplex (Auto), MDI or MDI-X (Auto) |
GPIO
| | |
| --- | --- |
| Number: | 16 GPIO, on 2 connectors SUB-D 37 sockets |
| Output: | Relay (dry contact).  'Common' – 'Normally Open' terminals for each relay |
| Input: | Opto-coupler, Command 5 to 24 volts non polarized, Built in current limitation |
| Delay: | 3ms Typical ( Time for relay switching) |
Power supply
| | |
| --- | --- |
| Consumption: | 20 Watts per rack |
| Voltage: | 115V or 230VAC (+10, -15%)  50-60Hz, internal switch selection |
| Type: | Redundancy PSU |
Mechanical
| | |
| --- | --- |
| Dimensions: | 19″ 1U chassis rack |
| Cooling: | One fan with speed management |
Signaling
| | |
| --- | --- |
| 2 x Video: | Video presence (2 LED) |
| 16 x Analog audio: | Inputs: Audio presence (16 LED), Outputs: audio presence (16 LED) |
| 4 x AES: | Inputs: Audio presence (4 LED), Outputs: audio presence (4 LED) |
| 2 x Ethernet: | "Link" and "activity" (4 LED) |
| 2 x RS 422, 485: | "Rx" and "Tx" (4 LED) |
| 16 x GPIO: | Status of the relay (16 LED), Status of the input (16 LED) |
| Optical: | Optical receiver status, optical component alarm, optical fiber alarm |
| Power supply: | "ON" (indicates internal voltage are OK) |