NET RACER COMPACT
Compact receiver enclosure for Net E/R or Topas R modules.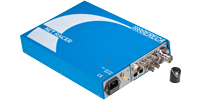 Overview
The NET RACER COMPACT is a stand alone for boards which fit the 19″ 3U NET RACER rack (16 slots).
The NET RACER COMPACT is the solution for small transmission architecture and mobile installations.
Main features are
2 slots chassis allowing 2 single slot or 1 double slot user board
Embedded thermally controlled cooling
Embedded 120 watts high reliability PSU, 90V to 265Vac input
Small size 202*278*47mm
The high power embedded PSU enables usage of optical receiver board with hybrid cable remote camera and transmitter powering.
The cooling is assumed by a single thermally controlled fan, the air flow passes trough the power supply section then onto the user boards thus allowing a very efficient cooling scheme for a standalone enclosure.
The compact size allows installing 2 NET RACER C onto a 19'' width mounting plate, two M4 thread are provided at the cabinet bottom to allow easy screwing.
For wall mounting, 2 special apertures located at cabinet bottom allow easy vertical installation by sliding the unit onto 2 wall screws.
Note: There is no management unit allowing board setup. User boards with setup also have hardware controls that automatically override software settings for Net racer C operation.
Power Supply
| | |
| --- | --- |
| Mains voltage input | 90 to 264 VAC (47 to 63 Hz) |
| Power | 120 Watts |
| Efficiency | 88 % at full load |
| Fuses | 2*2 A slow blow located on power socket. |
| Connector | CEE22 / IEC C14 |
| MTBF | 400 000 hours (Excluded Fan, about 120 000 hours) |
Mechanical
| | |
| --- | --- |
| Dimensions | 202 x 278 x 47 mm (excluded connectors and door screw) |
| User boards | 2 x standard module width (1 slot), 1 double module width (2 slots) |
| Mounting | M4 Threads and 2 apertures for wall mount |
Environmental
| | |
| --- | --- |
| Operating T°C: | -10  to +50°C |
| Storage T°C: | -10 to +70°C. |
| EMC: | CE compliant. |