TOPAS R
Optical receiver module for TOPAS E (AW-UE120/130 cameras)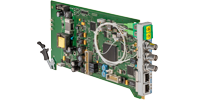 Introduction
The TOPAS RT product family is the receiver for Broadcast cameras, offering transmission of all camera signals and remote powering the camera & transmitter over Hybrid cable.
The TOPAS R solution integrates in the NET RACER platform allowing 16 receivers in the NET RACER 19″ 3U and 2 receivers in the NET RACER COMPACT module (single slot receiver).
The module transmits the following signals:
1 SDI HD OUT
1 PAL OUT (Optional SDI HD reverse path in place of PAL)
1 GENLOCK IN
1 RS 422 bidirectional
1 IP 100 Mb/s
Optional bidirectional AUDIO / GPIO.
Depending on optical connector and functions the TOPAS RT is single slot or two slots module.
On two slots module; a GENLOCK active loop thru eases the distribution of the genlock signal and the SDI HD signal from the camera is duplicated for distribution purpose.
The modules have three optical connector options with corresponding powering function:
1 LEMO 3K or NEUTRIK OpticalCon Duo hybrid connector, the module remote powers the camera and the transmission module at camera side.
2 SC/APC connectors module. (No remote power option).
As an option, the module can transmit two bidirectional audio signals. The audio option offers also the transmission of two GPIO.
As an option also, for monitoring at camera side, one video HD SDI return channel can take the place of the PAL signal from the camera.
Audio and video options are available simultaneously.
SD/HD Video
| | |
| --- | --- |
| Number, Connector: | BNC, 1 signal from camera to CCU |
| Video option: | One HD SDI return channel |
| Standard: | SDI HD, SDI SD, ASI (2 HD as an option) |
| Impedance: | 75 Ω |
| Return loss: | Better than -15 dB |
| 2 slot board: | Double HD SDI output of the camera signal |
Analog Video
| | |
| --- | --- |
| Connector: | BNC, 1 bidirectional, Genlock + PAL from camera The video option takes the place of the PAL |
| Standard: | PAL, SECAM, NTSC, Tri-level to camera ( Bi / Tri level auto sense) |
| Impedance: | 75 Ω |
| Bandwidth: | > 5.8 MHz à +/- 0.2dB |
| Differential Gain: | < 1% |
| Differential Phase: | < 1° |
| Group delay: | < 10 ns |
| SNR: | > 67dB (CCIR567) |
| 2 slot board: | One local output of the Genlock for signal distribution purpose |
Ethernet
| | |
| --- | --- |
| Signal: | 1 |
| Connector: | RJ 45 (Auto MDI) |
| Speed / duplex: | 10 or 100 Mb/s (Auto sense), Full or Half-duplex (Auto negotiation) |
Data
| | |
| --- | --- |
| Signal: | 1 bidirectional channel |
| Protocol: | RS485, RS422, RS232 |
| Data rate: | 0 to 230 Kbs (protocol less) |
| Closure contact: | With audio option: 2 GPIO, SUB D-9 socket connector on audio breakout cable |
Analog Audio (Option)
| | |
| --- | --- |
| Number, Connector: | 2 bidirectional, on one multi-point connector, Breakout cable on 4 XLR (2 in, 2 out) provided |
| Impedance: | Differential input 10 KΩ (non floating), Differential output 20 Ω (non floating) |
| Amplitude: | 0 dBm nominal (saturation at + 12 dBm) |
| Bandwidth: | 50 Hz to 15 KHz within +/- 0.5dB, (20 Hz to 20 KHz within -3dB) |
| Distortion: | 0.05% at 1 KHz +12 dBm |
| SNR: | 90dB "A weighted" |
Led display At connector side
| | |
| --- | --- |
| Video: | Presence (1 Led for each path) |
| Ethernet: | "Link" and "activity" (2 Led) |
| RS 232/422/485 | "Rx" and "Tx" (2 Led) |
| Optical: | Optical receiving state (1 Led) |
At front face
| | |
| --- | --- |
| Power OK | The board is well powered |
| Run | Led flashes when board communicate with platform controller (rack management unit) |
| Alarm | One alarm is detected on the board |
Power supply (Local)
| | |
| --- | --- |
| Consumption: | 4 Watts without remote powering consideration (Remote power) |
| Range/ Connector: | 600 meters of SMPTE cable (section 16 AWG) / Lemo 3K or NEUTRIK |
| Safety power sourcing: | Remote power delivery protection: Auto detect*, forced ON, forced OFF (*): Hybrid cable with signal wires |
| Output power: | 45 Watts for camera supply (or 21 W after 600 m of SMPTE cable) |
| Output voltage: | 48 Volts floating output |
Mechanical
Dimensions:
Board for ERECA NET RACER family platform and stand alone unit
NET RACER capacity:
NET RACER: 16 slots for 16 unitary modules to 8 double width modulesNET RACER C: 2 slots for 2 unitary modules to 1 double width module

(see NET RACER documentations)