TOPAS E
Optical transmission module for AW-HE120/130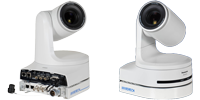 Introduction
The TOPAS HE120 is an optical fiber transmission unit intended for a PANASONIC AW-HE120 & AW-HE130 cameras. The special shape of the TOPAS HE120 directly fits under the camera base. The TOPAS HE120 has the same mechanical interface as the camera bottom and its base plate, allowing quick and easy upgrade of existing installations.
The module transmits the following signals:
1 3G/HD/SD SDI IN
1 PAL IN
1 GENLOCK
1 RS 422 bidirectional
1 GP OUT
1 IP 100 Mb/s
The module has three optical connector options and powering:
2 SC/APC connectors, the module is powered by the DC Adapter of the AW – HE120.
1 LEMO 3K or NEUTRIK OpticalCon Duo hybrid connector, the remote powering of the camera and the transmission module is done by the TOPAS receiver module.
As an option, the module can transmit two bidirectional audio signals, a microphone stereo input with remote gain setting and phantom power is also available. The audio option offers also the transmission of two GPIO.
As an option also, for local monitoring, the PAL input signal at camera can be replaced by a return HD SDI OUT channel.
SD/HD Video
| | |
| --- | --- |
| Number, Connector: | BNC, 1 signal from camera to CCU |
| Video option: | One HD SDI return channel |
| Standard: | SDI HD, SDI SD, ASI (2HD as an option) |
| Impedance: | 75 Ω |
| Return loss: | Better than -15 dB |
Analog Video
| | |
| --- | --- |
| Connector: | BNC, 1 bidirectional, Genlock + PAL from camera the video option takes the place of the PAL |
| Standard: | PAL, SECAM, NTSC |
| Impedance: | 75 Ω |
| Bandwidth: | > 5.8 MHz à +/- 0.2 dB |
| Differential Gain: | < 1% |
| Differential Phase: | < 1° |
| Group delay: | < 10 ns |
| SNR: | > 67dB (CCIR567) |
Ethernet
| | |
| --- | --- |
| Signal: | 1 |
| Connector: | RJ45 (Auto MDI) |
| Speed / duplex : | 10 or 100 Mb/s (Auto sense), Full or Half-duplex (Auto negotiation) |
Data
| | |
| --- | --- |
| Signal: | 1 bidirectional channel |
| Protocol: | RS485, RS422, RS232, setting on receiver board & through NetRacer platform management |
| Data rate: | 0 to 230 Kbs (protocol less) |
| Closure contact: | With audio option: 2 GPIO, SUB D-9 sockets connector on audio breakout cable |
Analog Audio (Option)
| | |
| --- | --- |
| Number, Connector: | 2 bidirectional, on one multi-point connector, Breakout cable on 4 XLR (2 in, 2 out) provided |
| Impedance: | Differential input 10 KΩ (non floating), Differential output 20 Ω (non floating) |
| Amplitude: | 0 dBm nominal (saturation at + 12 dBm) |
| Bandwidth: | 50 Hz to 15 KHz within +/- 0.5dB, (20Hz to 20 KHz within -3dB) |
| Distortion: | 0.05% at 1Khz + 12 dBm |
| SNR: | 90dB "A weighted" |
| Mike input, Gain: | From 0 to 60 dB, Tunable by 6dB steps, setting on receiver board & through NET RACER platform management |
| Phantom power: | 48 volts switchable, Source Impedance 6.8 KΩ |
Led display
| | |
| --- | --- |
| Video: | Presence (1Led) |
| Ethernet: | "Link" and "activity" (2 Led) |
| RS 422/485: | "Rx" and "Tx" (2 Led) |
| Optical: | Optical receiving state (1 Led) |
| Power supply: | All internal power supplies are within 5% tolerance (1 led) |
Power supply (Local)
| | |
| --- | --- |
| Consumption: | 4 to 5 Watts depending on module options |
| Voltage: | 12 Volts from camera DC Adapter |
| Connector: | Socket and Plug (ring 6.5mm, pin 3mm) |
Remote Power
| | |
| --- | --- |
| Range/ Connector: | 600 meters of SMPTE cable (section 16 AWG) / Lemo 3K or NEUTRIK |
| Remote input voltage: | 24 to 48 Volts (from receiver module for remote powering |
| Output power / Voltage: | 12 volts 20 Watts for camera supply |
| Output connector: | Plug (ring 6.5mm, pin 3mm) – Center pin is +12 Volts |
Mechanical
| | |
| --- | --- |
| Camera side: | Black or white camera base shaped cabinet |
| CCU side: | Card for 3RU Platform RACK or stand alone, see TOPAS RT and NET RACER documentations |
| Cable provided: | All signal cable to AW HE120, breakout cable for Audio/Gpio option |