NET RACER E/R
HD SDI transmitter over optical fiber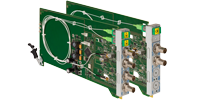 Overview
The NET E/R HD range is designed for SDI, HD and 3G transmissions over optical fiber. Along with the Gigabit transmission board these equipments are designed for infrastructure applications like rented transmissions or intra studio intercommunication.
The transmission board fits in NET RACER chassis, the NET RACER 3U with 16 modules capacity and the NET RACER compact standalone with 2 modules capacity. The NET RACER built in management unit provides a comprehensive transmission board status trough Web brower or SNMP for local or remote management.
This product offers numerous options for simple to dense installations. Each board can be equipped with 1 or 2 transmitter, receiver or bidirectional modules offering the following possibilities:
Single transmitter,
Single receiver,
Dual transmitter,
Dual receiver,
Single bidirectional transceiver,
Dual bidirectional transceiver.
Such density offers up to 64 HD links per 3U unit.
Depending on distance and number of fiber available for the application, standard wavelength or multichannel CWDM multiplexing can be used. Multiplexers with 4, 8 or 16 wavelength directly fits in the NER RACER platform.
Video SD/HD/3G:
Number of signals:
Single board: 1 signal on 1 optical fiberDual board: 2 signals on 2 optical fibers
Standards:
3G, HD, SDI , ASI
Impedance:
75 Ω
Return Loss:
Better than – 15 dB from 0 to 1.5G, better than – 10 dB from 1.5G to 3 Giga
Cable equalization:
140 m max (Belden 1694A for HD), Output: 800mV pp
Video connector:
HD BNC
SDI Output:
Transmitter or Bidirectional module : NET E / NET B

1 signal on BNC connector.

Receiver module : NET R

Dual output on BNC connector.

Signaling LED:
Signal detection / Reclocker locked.
Optical
| | |
| --- | --- |
| Component: | Laser 1310nm, 1550nm, CWDM, Bidirectional module. |
| Output power: | 0 dBm Typical |
| Receiver sensitivity: | Better than – 20 dBm (pathological signal) |
| Connector: | SC/APC 8° |
| Signaling LED: | Low optical level on receiver. |
Powering
| | |
| --- | --- |
| Power consumption: | 1 to 2 watts depending on model type |
| Signaling LED: | Module internal power supplies in their tolerance. |
Management
NET RACER Management:
Built in unit in 19″ 3U NET RACER platform

Board optical configuration (Laser power / Wavelength)
Signal state/ Alarms report
Data rate indication
Optical power measurement
Mechanical
| | |
| --- | --- |
| Module size: | Single slot module for 19″ 3U, 16 slots: NET RACER Platform |
| or | Standalone box with 2 slots: NET RACER COMPACT. |