ERC ETH 100
Ethernet 10/100 transmission on optical fiber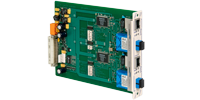 Introduction
ERC ETH module converts Ethernet 10/100 BASE-T (Standards IEEE 802.3 and IEEE 802.3u) to optical fiber 100 BASE-FX.
The module is designed with non blocking architecture to insure a permanent 100 Mbps bandwidth. Ethernet switch facilities give a wide range of configuration so it is not necessary to use the same network configuration at each end of the optical link.
Each module is equipped with 1 or 2 media converter. In the case of 2 independent media converter on the same module, The module can be set by the user to couple the two transmissions and make a switch with 2 RJ45 + 2 optical ports.
Brochures
Technical Documents