ERC 150
1 video transmission over multimode fibre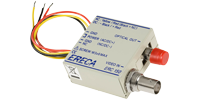 Introduction
ERC 150 is a video transmission equipment over multimode optical fiber.
FM transmission technique offers higher performance than basic analog transmission for video quality restitution over longer distance.
No settings are required on the ERC 150.
The transmitter is housed in small stand alone box with low consumption, low voltage powered for integration in camera housing or dome camera.
Receivers are pluggable in 19" 3U ERC 17-001 chassis or in a stand alone ERC 17 SA.
Receiver modules are available in one or three channels versions.
In chassis presentation, modules can be monitored by ERC 17 GUARD module (HTTP or SNMP). Up to 39 receivers can be plugged in one chassis.
Brochures
Technical Documents