ERC 17
Power supply 19″ 3U chassis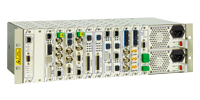 Introduction
The ERC 17-001 powers 13 ERECA modules for transmission over optical fiber and supervisor module.
One power supply is enough for all modules. For applications which required redundant power supply a second unit (similar) can be placed into the mainframe.
All transmission modules and power supplies are "HOT-SWAP".
A Supervisor module, the ERC 17 GUARD, collects modules information, and delivers contact closure alarms and full modules status through Ethernet or SNMP.