ERC 1600
Video digital transmission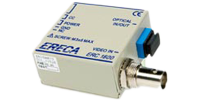 Introduction
ERC 1600 are video digitized transmission equipments. ERC 1600 allows transmitting video signal on an optical fiber singlemode or multimode.
Transmitter is presented in a small stand alone box with a low electrical consumption for integration in camera housing or a dome camera.
Optical signal is received on a plug-in module for 19'' 3U chassis ERC 17-001 or stand alone housing ERC 17-SA. Receiver modules are available in three ways unit.
Very high quality is assumed by 10 bits video digitizing (S/N = 67 dB), digital filtering and transmission. The AGC avoid any video setting during first service.
Brochures
Technical Documents