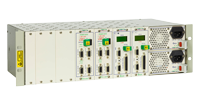 Introduction
At the control end of the network, the ERC EROS-CE, is presented in a 19″ 3U chassis, the ERC ERO CH, in which 6 optical interface modules can be plugged, with 2 hot swapable power supplies.
The control board, the ERC ERO 003, has two optical connectors and is able to manage up to 3 simultaneous conversations on each optical bus.
An audio matrix manages conversations between all EROS networks, operators and external services using PABX connection.