ECB opto-electronic interfaces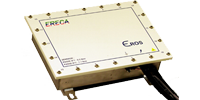 Introduction
Field interfaces for Emergency Telephone ensure digital to analog signal conversion for speaker and microphone.
Transmission on the network is full digital.
Opto-electronic may be in a IP 67 waterproof enclosure to be placed in the underground manhole or in an aluminium housing for ECB integration.
Severals options are available, as a wireless Bluetooth connection between ECBP (Master) and ECBS (Slave) or the adding of video, data or closure contacts.
A hand held setting tool sets the parameters of each ECB, directly from ECB, using serial protocol. It is also a grateful help for installation and maintenance operation by indicating the optical power received by field interfaces.