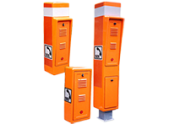 Introduction
ERECA supplies a full range of Emergency Call Boxes (ECB), standard, compact and mini, according to French NF P 99 251 standard.
These boxes may only contain microphone, loudspeaker and push button.
For tunnel application the main ECB is capable to receive the optoelectronic network interface.
ERECA recommends, for other applications, to fit the transmission system in the underground cable cabinet near the principal ECB.